Good afternoon, Screaming Firehawks! Today is a big day in The Expanse fandom, as the Kickstarter for the Officially Licensed Roci Collector's Edition by Idea Planet is finally live! You voted on your favorite collector's item and you got it – a 21 inch, super high quality and detailed model of the Rocinante. While all the exact details on pledge levels, additional rewards and costs are available on the Kickstarter page, we wanted to give you guys an inside look into the team behind this effort.
We had the pleasure of having a chat with Mike Ableman, the Chief Creative Officer at Idea Planet. Read the full interview below to find out more about the team, the process of manufacturing the gorgeous Rocinante, and what inspires Mike and his colleagues about The Expanse!
---
The Expanse Lives: Tell us about about yourselves and your history. How long have you been doing this kind of thing for? What are some of your favorite projects that you worked on, besides this one?
Mike Ableman: Idea Planet has been in business since 2000. We've done everything from creating lifesize characters for the movies – including Mike & Sully for PIXAR and the entire Simpsons living room for Fox Studios – to making detailed collector pieces for the gaming world including the upcoming Ellie Statue for the upcoming The Last Of Us Part II. We are very proud of all our work, but I'd say it's the little things that really get us jazzed. The extra details or an "Easter Egg" that just makes us smile when we see it, because we know fans are smiling too.
TEL: Were you fans of The Expanse prior to the Expanse Launch project?
Mike: Some of us were and some of us weren't. We all are now!
TEL: How did the idea come about, and what was the process like for getting it off the ground?
Mike: The seed of the idea came from Rand Miller, the creator of Myst. He had wanted to create Linking Book for the 25th Anniversary of his game, but didn't know if there was demand. We partnered with him and Kickstarted it. We have always used "fan inspiration" and input to create, but never at that level. It was just a great experience all around. When we were done we said "what's next?". The Expanse was a natural. We knew it had been saved by the Screaming Firehawks and we knew there was pent up demand for what we call "artifacts" of the story. We approached Amazon and the studio with the idea of creating a completely fan-driven Collector's Edition and they agreed to help us. They know this show is special and the fans are too.
TEL: What has been the most interesting or notable part of working on a project for The Expanse fandom community, compared to other audiences you've worked on projects for?
Mike: Oh, that's a soft ball question. No doubt, The Expanse fans are extremely knowledgeable and passionate. They know the storylines, the characters, the ships, and even the scientific facts/theories that make the show truly unique. In full disclosure, we did not know it that intimately, but we are learning. And, thankfully, the fans have helped us along the way. We've had a chance to meet many of them virtually and at New York Comic Con. It really is a wonderful, diverse community.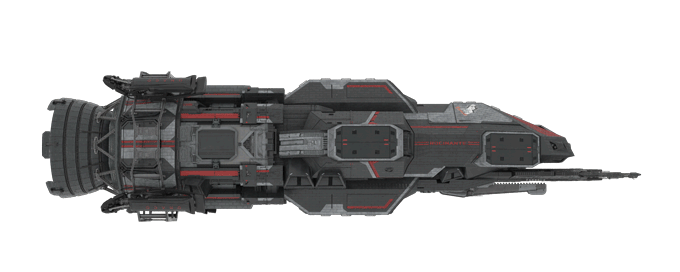 TEL: What are some challenges that you have already faced, and some that you are expecting to deal with in the coming months?
Mike: The only challenge is in getting the word out. We don't just need fans to help fund, we need them to tell other people. As far as production goes, the biggest challenge may be in the new landing gear. It is extremely detailed. We are supplying two attachments. One is retracted and one is extended. We had to make a big decision on the extended gear. We could either lose a lot of detail and make it functional – so fans can pose the Roci upright, or we could keep the detail and not worry about weight bearing. Our preference is the latter, but we may ask fans help us decide. That's the coolest part about this project. If we have questions we will just ask the fans what they want.
TEL: If you had to pick one of your original set of choices, what would you have picked?
Mike: First of all, none of these were our ideas. We asked fans what they wanted and 6,000 fans told us. We love where we landed (get it?, "landed"), but we also had a special place in our hearts for both the Levitating Roci and the Talking Chrisjen Avasarala Doll. In reality, the Levitating Roci would have been cool, but there is no way we could have delivered on the quality of the actual ship. In order to levitate we would have had to slightly alter the shape of the ship. It also wouldn't have nearly as many details, and it would have been much lighter. It would have felt more like a toy and less like a replica. As for the doll, are you kidding me? Genius idea! We would have loved to make it, but in order to fund a Kickstarter you need mass appeal. The masses wanted a badass Roci – and that's what they are getting it. Plus, anyone who orders in the first 48 hours gets our little homage to the doll…a Chrisjen Avasarala Vinyl Playset!
TEL: Tell us about the process of manufacturing the Roci – fans would love to hear the details of how much work has to go into actually producing this thing.
Mike: We started with the best thing we could start with – an incredible 120 Gig 3-D file. It took us forever to download! Our engineers have now been working with that file for weeks, breaking down the parts and figuring out how to make the tools that will bring it together. Right now, we are estimating that there will be over 100 individual parts. Once the design is complete we will start making tools. Once we have pre-production models we will start developing the paint operations, based on the exact specs from the studio. There's much more, but the important thing to know is that it is a fluid, iterative process. And, if you are a backer, you will get to see the whole process and actually participate in decisions along the way.
TEL: Why do you like The Expanse, and what about it inspires you the most?
Mike: I'll give you three answers. The first one is the fan passion. That is what Idea Planet is all about. It's what gets us up in the morning. There aren't many stories out there that simply resonate with fans on such an emotional and intellectual level. The second is the relevance of the story. We live in interesting times, don't we? This story is a mirror into many of the social issues we face now and in the future. Finally, it is the characters. We love them all, but I'd say we do have a slight affinity towards the female characters. There is no story we've ever seen that features female characters in such a progressive way. As Chrisjen would say, "About f*#king time!".
TEL: If someone reading this is unable to pledge, or has already done so and wants to support the project further, what can they do?
Mike: Another easy question! Pledge a buck if you've got a buck and you'll get a bumper sticker. That is a "thank you" from us. It is definitely not a profit center! More importantly, as I've already said, the best thing you can do to support this project and any other projects in the future (we have not ruled out a doll down the road) is to tell people. Post about it. Talk about it. Scream it from the rooftops. We would really want Screaming Firehawks to scream about it!
Some of the other rewards offered on the Kickstarter, including designs by Expanse fan Bora Kutlu.
TEL: Earth, Mars, or Belt?
Mike: Well, our parents were Earthlings and (technically) we still are – so you've got that. On the other hand we've got some pretty geeky folks around here that would like to be on the first SpaceX outta here. And then we've got a lot of hard-working, no-nonsense, get-'er-done people around here that do not suffer fools and speak a language that many others can't comprehend. Can I pass on this one? 😊
TEL: What are you most excited to see in Season 4?
Mike: Well, we know it covers the fourth book of James S.A. Corey's amazing series, Cibola Burn and that Burn Gorman is playing Adolphus Murtry. If you've been fortunate enough to see the first episode, you know how good he is. I'm just excited to see it all play out. It's also nice that the studio and Amazon have said they are going to let it all hang out!
TEL: Anything else you'd like to say to the fans that you haven't had the opportunity to yet?
Mike: My last soft ball! The easiest question of them all. Taki! To pochuye ke?
---
That's all folks! As you can see, there is a great amount of love and skill going into this project, and we have no doubt we won't be disappointed. We want to thank Mike for taking the time to answer our questions, and the rest of the team for taking this on and being fantastic at communicating with fans and incorporating feedback. And, of course, thank you all for your support – this whole process feels like a true collaboration among the fans, so if you have not yet pledged, head on over to the Kickstarter and show them how we do things around here! As of the time of writing, the campaign has already broken 50% funding only a few hours after launch – no surprise, given who they're dealing with.
Thank you for reading! We can't wait to get our Roci – can you? Stay tuned for more updates on the project as it looks to smash through the funding goals in short order.
Signing off,
TEL Crew